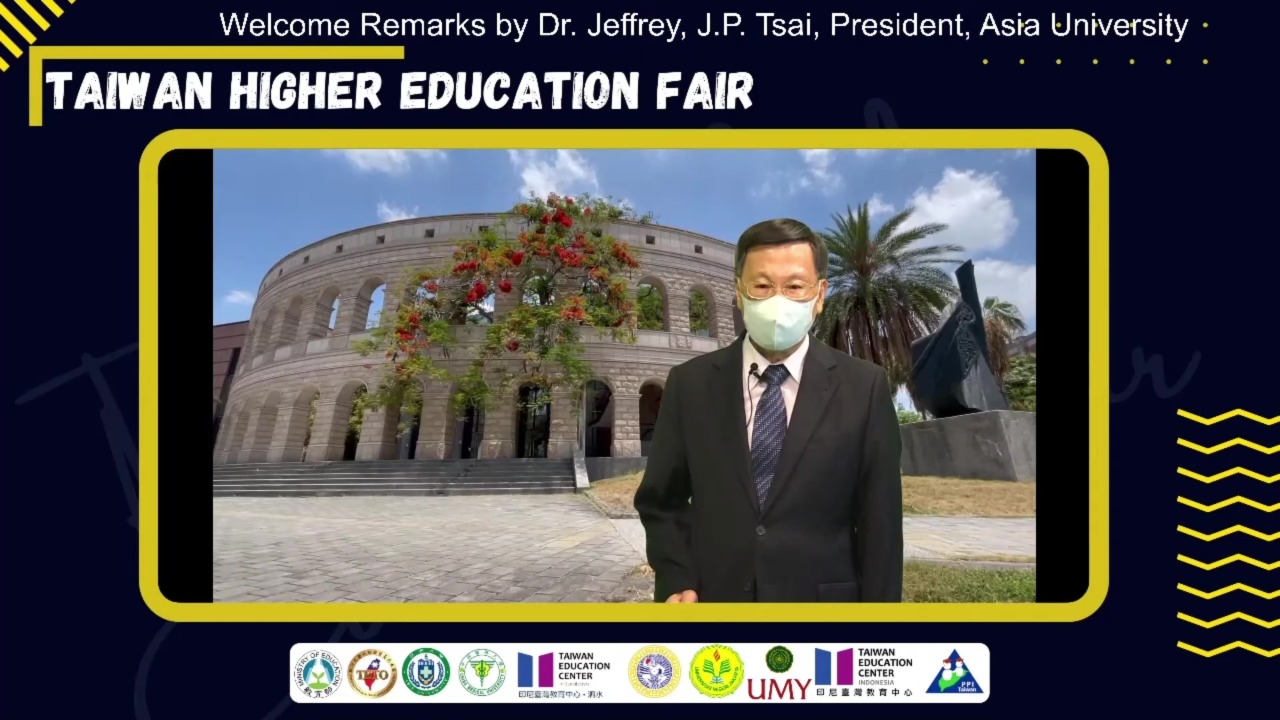 Asia University launched an on-line Taiwan education fair for Indonesian students from September 27 to September 29.  A record-breaking number of 63 Taiwan universities, both public and private, joined the education fair which attracted more than ten thousand Indonesian students and their parents who attended the fair to search for their target universities to study in Taiwan.
Many famous Taiwan universities such as National Taiwan University, National Yang Ming Chiao Tung University (NYCU), National Cheng Kung University (NCKU), National Sun Yat-sen University (NSYSU), China Medical University (CMU), and Soochow University (SCU) registered for this fair and each university made a 20-minute presentation highlighting their features and strengths to Indonesian students. They also expressed their great gratitude for AU's effort to organize such a large event to facilitate the international recruitment for each university.
Dr. Mon-Chi Liu, Deputy Minister of Education, stated in his opening address to the participants, "Indonesia is an important partner to Taiwan in many fields, including academic cooperation in the higher education."  Today, we have 13,804 Indonesian students studying in Taiwan, making Indonesia the 3rd largest country in international student population.  He then added, "The Taiwan government will continue to strengthen and deepen its New Southbound Policy and offer various scholarships for Indonesian students to study in Taiwan."
Dr. Jeffrey J.P. Tsai, President of Asia University, observed in his welcome remarks, "Indonesian students perform well academically while studying at AU.  They are all able to find good jobs after they return to Indonesia or to continue their further studies here in Taiwan or elsewhere."  He also expressed his gratitude for MOE's strong support for AU's Indonesia Taiwan Education Center in Surabaya, which plays an important role as a platform for academic collaboration between Taiwan and Indonesia, including the recruitment of Indonesian students.
Mr. John C. Chen, Representative of TETO, Jakarta, was invited to deliver his speech and he stated that "more and more Indonesian students are taking Taiwan as their primary destination to study overseas."  In the past few years, the Taiwan Education Fair has exerted its strong influence on Indonesian students' choice of study overseas.
On the Indonesian side of this fair, three rectors from AU's partner universities in Indonesia were invited to address the audience via video talks and they encouraged Indonesian students to seize this rare opportunity to determine their ideal university for their study in Taiwan. They are Prof. Dr. Mohammad Nasih, Rector, UNAIR, Prof. Dr. Komarudin, M.Si, Rector, UNJ, and Prof. Dr. Ir. Gunawan Budiyanto, Rector, UMY.
Dr. Yinghui Chen, Dean of the International College, also the organizer of this event, in his presentation on "Why Study in Taiwan?" observed that "the number of Indonesian students in Taiwan is increasing every year because the tuition fee here is inexpensive and the teaching quality and learning environment are excellent. Taiwan is also a free, democratic and Muslim-friendly country, where Indonesian students find it safe and convenient."  He anticipates that the academic tie between Taiwan and Indonesia will grow stronger and become mutually beneficial in the future.